Today, ATR's Center for Worker Freedom (CWF) steps up its efforts to warn the residents of Chattanooga, TN about the terrible economic legacy and the left wing political nature of the United Auto Workers (UAW) union, which is aggressively trying to organize the town's Volkswagen facility.
The first of two designs is a 14 x 48-foot billboard on state highway153, near the local Volkswagen dealership, calling attention to the fact that the union's political activity is overtly partisan, spending millions to elect liberal left-wing politicians. The sign reads:
UNITED AUTO OBAMA WORKERS
The UAW spends millions to elect liberal politicians including BARACK OBAMA
The UAW is a "heavy hitter" when it comes to campaign donations, spending over $15 million in campaign contributions since 2012, almost all of it on left-wing campaigns and causes, vastly at odds with the values of Tennessee voters. That includes over $148, 000 to re-elect President Barack Obama.
The second billboard design measures 10 x 36 feet. One is located on Amnicola highway and cites an independent analysis from Reuters about how disastrous unionization has been for the American auto industry. It reads as follows:
"…almost every job lost at U.S. car factories in the last 30 years has occurred at a unionized company."– REUTERS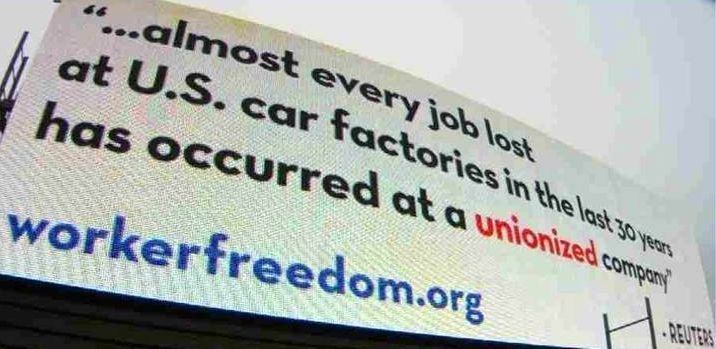 You can read the full Reuters report here.
CWF is also proud to announce the launch of its flagship website, www.workerfreedom.org, which will function as a resource for all things UAW related, including news, political spending, finances and leadership.
Workerfreedom.org will make it easy for journalists and researchers to access information about the union and its continuing assault on the southern manufacturing base.
The Center for Worker Freedom is a special project of Americans for Tax Reform whose work has been featured in the New York Times, Forbes, and Foxnews.com and many other outlets.