Throughout the summer, Americans for Tax Reform will be highlighting the most outrageous new powers that the IRS will have under the Obamacare law. According to a report from GAO, the IRS is tasked with nearly four dozen new powers under that law. Each day, one will be selected for a brief review.
Power #1: Equal Outcomes Matter
Obamacare requires that everyone in a workforce have the same "quality" health coverage as everyone else.
Power #2: Profit Cap
Obamacare puts a price control on how much money health care companies can make. This will result in rationing of health care for all of us.
Power #3: Nosey Uncle Sam
Obamacare says that the IRS and HHS must share personal health ID information about every American participating in Obamacare.
Power #4: Community Organizer Subsidy
The Obamacare law provides for "walking around money" payments to ACORN-like community organizers to sign people up for Obamacare (and likely to vote).
Power #5: Free Money for Insurance Companies
The IRS will be giving every insurance company in America money to help people pay for Obamacare insurance. What happens if the IRS gives them too much money? You have to pay the IRS back.
Power #6: Your Life in His Hands
Bureaucrats at the IRS and HHS will determine whether you must get Obamacare health insurance, what kind you can get, and what you will pay.
Power #7: Red Tape Tax Credit
Obamacare creates a tax credit for small employers to comply with Obamacare. There's only one problem-the tax credit is so complex, the IRS and CBO report that no one is using it.
Power #8: Individual Mandate
This is the most famous part of Obamacare. Most every American will be required to purchase "qualifying" health insurance. Failure to do so will result in a hefty surtax payable to the IRS.
Power #9: Personal Info Disclosure
Your personal health ID info will have to be disclosed from your insurance company to the IRS. You are also going to have to disclose your personal health ID info to the IRS.
Power #10: 28 Hour Work Week
American manufacturers of prescription medicines will have to pay a new tax to the IRS based on how many life-saving medicines they sold.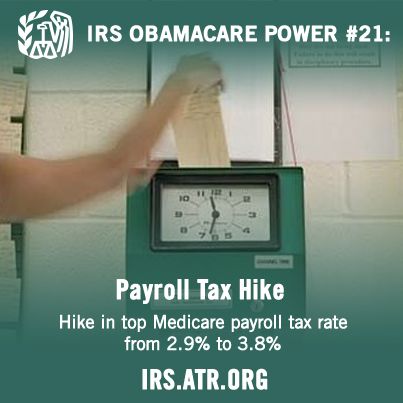 Obamacare raises the top Medicare payroll tax rate from 2.9% to 3.8%.